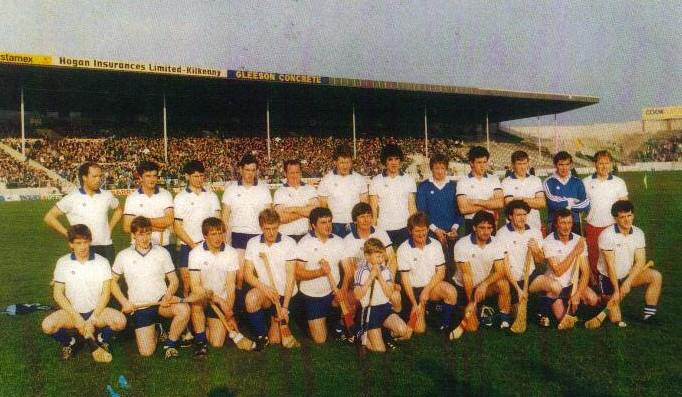 Back Row L-R: Noel Buckley, Ger O'Neill, Tom Coughlan, Simon Ryan (L), John Ryan (P), Conor Ryan (H), Ger Ryan (B), Danny O'Neill, Michael Ryan (L), Anthony O'Neill, John Barry, Eugene Maguire.
Front Row: L-R: Austin Buckley, Paul Buckley, Pa O'Neill, Michael Buckley, John O'Neill (Captain), Martin McDermott, (Shane McDermott – Mascot), Myles Coughlan, Deasún Hennessy, Dan Ryan (P), Eamon Ryan (B), Dick Quirke
In 1987 Cappawhite played a total of 13 competitive games, 3 in winning the West Title, 3 more on their way to the County Title and a further 2 in the Munster Championship. There was a further 5 games in the Crosco Cup, a competition where Cappa' reached the final which was played in 1988.
| | |
| --- | --- |
| | |
| Chairman | Paul O'Neill |
| Secretary | John Ryan (P) |
| Treasurer | Shane Ryan (H) |
| Vice-Chairman | Liam Treacy/Jerry Creedon |
| Hon. President | John Kelly |
| Ass. Sec/P.R.O. | M. McDermott |
| Life Presidents | Rev. Fr.P O'Neill/Rev. Fr.Der O'Neill/Rev. Fr James Egan/John Treacy/J.P.Ryan/Ml. O'Brien |
See below opponents and scores from that famous year and read below an extract from the 'The Cappawhite G.A.A. Story' by John Kelly
West Championship 1st Rd. @ Cashel on June 4th
Cappawhite 1-14 Golden 2-04
West Semi-Final @ Golden on Aug. 16th
Cappawhite 2-16 Kickhams 1-11
West Final @ Cashel on Sep 13th
Cappawhite 4-15 Clonoulty/R 3-10
County Quarter-Final @ Boherlahan on Oct 4th
Cappawhite 1-20 Roscrea 1-14
County Semi-Final @ Semple Stadium on Oct. 18th
Cappawhite 2-15 Thurles Sars 1-14
County Final @ Semple Stadium on Nov 1st
Cappawhite 1-17 Loughmore/C 2-13
Munster Semi-Final @ Cappawhite on Nov 22nd
Cappawhite 2-08 Patrickswell 0-09
Munster-Final @ Kilmallock on Dec 5th
Midleton 1-12 Cappawhite 1-11
_________________________________________________________
From The Cappawhite G.A.A. Story by John Kelly
'The Crosco Competition was divided into two groups and semi-finals. Two new teams entered the competition, Jim Mitchels(Emly/Lattin/Cullen) and Garryspillane from County Limerick.
Theo English was appointed County Senior Hurling selector with Tipperary, and was unavailable to the club for training. The Club then appointed an army man, Ray(Rusty) Keane, a former rugby player with Garryowen, as trainer for the hurlers. Cappawhite started the Crosco competition with a 3-14 to 1-3 win at the latter's home ground on April 12. The team demonstrated that they had lost none of their appetite for hurling after a disappointing previous year. Cappawhite defeated Garryspillane, Arravale Rovers and had a walkover from the Kickhams to qualify for the Crosco semi-final. They turned on the style when defeating Eire Og(Annacarty/Donohill) on the score of 2-20 to 2.5 to qualify for the fiunal which was played in 1988.
In preparation for the senior hurling championship Cappawhite had played several challenge matches against clubs from the different divisions and counties. They also defeated the Limerick Junior Hurlers on the score 6-14 to 1-5 in early June. Without impressing Cappawhite defeated Golden comfortably enough on the score line of 1-14 to 2-4 at Cashel on June 4, in the West senior hurling championship.
The semi-final took place at Golden on August 16th when they had an 8 point win over a young Kickhams team. Cappawhite got off to a flying start with a lead of 1-4 to nil after 12 minutes and that lead was never seriously threatened to the end.
The West Final took place at Cashel on Sep 13 against Clonoulty/Rossmore. Both sides had never met in a final before. Before the parish rule, Clonoulty defeated Cappawhite/Donohill in the 1932 and 1933 senior finals.
Cappawhite this year had done some curious re-arranging of their side with former wing-forwards Austin Buckley and Ger Ryan (B) now playing as wing-backs. Captain John (Fox) O'Neill had moved from corner-back to corner-forward, where he started his career. Also moved into the corner was Martin McDermott who did most of his considerable hurling at midfield.
In an amazing and exciting final, the early dash was Clonoulty's and they were 0-6 to 0-3 up after a quarter of an hour. Clonoulty goaled from a poor clearance, and a Pa O'Neill goal in the 25th minute left the sides 1-7 to 1-3. The next five minutes were all Clonoulty's and they added 2 more goals to lead on the score 3-7 to 1-4, an advantage of 9 points. Cappawhite had already introduced Lar Cleary in the first-half to strengthen mid-field.
Before the match the Senior Hurling selectors Gerry Creedon, Liam Treacy and Rusty Keane has asked former Inter-county Hurler and selector John Kelly, as well as Chairman Paul O'Neill to keep an eye on things. The experienced combination made sweeping changes for the 2nd half, Conor Ryan going to midfield, Martin Mac to centre-forward, Simon Ryan(L) to wing-forward, Pa O'Neill to Corner-Forward and Lar Cleary to Wing-Back which released Austin Buckley to wing-forward and Michael Buckley was introduced at full-back.
These changes, with the pride of the little village at stake, saw a spirited Cappawhite team set about the business of reducing a 9 point lead. The Cappawhite attack started to string passes together with radar-like activity. Astin Buckley led an attack which set up Ger O'Neill for the all important goal, which set the recovery in motion.
Clonoulty were now in difficulties and Conor Ryan began to rule midfield with Austin Buckley in excellent form at wing forward. Ger O'Neill's goal in the 15th minute put Cappawhite in front for the first time and the team was now rampant. Further scores form Austin Buckley and a goal from captain, John O'Neill, saw Cappawhite re-emerge from the jaws of defeat to an astonishing 8 point victory, on the score of 4-15 to 3-10. The half time switches have to rate as significant features in Cappawhite's second half resurgence. Conor and Austin justified their positional changes with two marvellous second half performances. Ger O'Neill showed plenty of old verve and cuteness. Pa O'Neill, John"Fox" O'Neill and Martin McDermott all welded neatly in a potent attacking unit. Michael Buckley strengthened the defence in the second half and Mylie Coughlan, diminutive and terrier-like, let little pass. Anthony O'Neill improved as the game went on, and overall it was a team victory as marvellous as any of the three previous west titles this crop of players have won.
Cappawhite: D.O'Neill, M.Coughlan, J.Ryan (P), N.Buckley, A.Buckley, A.O'Neill, G.Ryan (B), S.Ryan (L), E.Ryan (B), E.Maguire, C.Rayn (H), P.O'Neill, J.O'Neill 'Fox' (Capt), G.O'Neill, M.McDermott,
Subs: L.Cleary, Ml.Buckley
The County quarter final took place in Boherlahan on October 4th against Roscrea. Cappawhite started brightly and went into the lead, but Roscrea finished the first half stronger, and led 1-11 to 0-13. Within 4 minutes of the re-start,flu victim Ger O'Neill gave Cappawhite the lead with a goal, a lead which they never lost. This lead of two more points was very vunerable to a Roscrea goal, and it was only in the last 10 minutes, that Cappawhite stretched the advantage to security. The final score was Cappawhite 1-20, Roscrea 1-14. Conor Ryan (H), Pa O'Neill and Austin Buckley led the attacks with good support from Ger Ryan (B), Eamonn Ryan(B) and Martin McDermott.
Cappawhite played famed Thurles Sarsfields in the County Semi-final at Semple Stadium Thurles, on October 18th. Sarsfields looked impressive from the start and had 2 points on the board before a Ger O'Neil-Pa O'Neill movement ended up in the net on 10 mins. Sarsfields responded immediately with a goal, and at half-time were down a point after playing into a stiff breeze, on the score of 1-6 to 1-7. The sides were level on five occasions in the 1st half. Sarsfields drew level in the 6th minute and a fine save by Danny O'Neill prevented them getting a major. They also had a goal disallowed and then went ahead in the 39th minute of the game.
Cappawhite steadied themselves with Conor Ryan(H) going centre-back and they were ahead by 2 points with 4 minutes left. A goal by John O'Neill sealed the issue and Cappawhite became the 7th West Team to contest a County senior hurling final. The final score was Cappawhite 2-15, Thurles Sarsfields 1-14. Pa O'Neill was the star of the victory, causing many problems for the Sarsfields defence. Ger Ryan(B), Mylie Coughlan, John O'Neill, Eamonn Ryan(B) and Martin McDermott were also prominent.
Cappawhite had made history by appearing in its first senior County hurling final. 14 times have West teams appeared in a County senior hurling final, with success going to Clonoulty 1888 and Eire Og(Annacarty) 1943.
| | |
| --- | --- |
| Clonoulty  | 1888, 1927, 1928, 1951 |
| Race-Course(Cashel District)  | 1909, 1910 |
| Cashel  | 1913, 1937, 1939, 1940 |
| Tipperary O'Learys | 1912 |
| Kilmoyler(South selection/Bansha) | 1923 |
| Eire Og(Annacarty)  | 1941, 1943 |
| Knockvilla Kickhams | 1949 |
The centenary Senior Hurling Final took place at Thurles on November 1st, against Loughmore/Castleiney, and neither they nor Cappawhite had ever won a title before. Loughmore/Castleiney, defeated finalists in 1983, settled immediately into their game and were 1-7 to 0-2 up after 20 mins, due mainly to Pat McGrath, the Tipperary hurler who out-manoeuvered and outpaced his unenterprising opponents. Cappawhite introduced Johnny Ryan(P) in the 11th minute of the game and many of the switches proved fruitless in stemming the rampant McGrath. Ger Ryan (B) was switched on him in the 20th minute and from then on his contribution was curtailed.
In the last 10 minutes of the first half a Martin McDermott goal, followed by a sideline over the bar, gave Cappawhite a much needed boost. Anthony O'Neill pointed a '65 and 2 excellent points by Pa O'Neill, followed by a Loughmore point, left the half-time score, Loughmore 1-8 Cappawhite 1-6. Cappawhite's reduction of Loughmore's early lead of 8 points in the 20th minute, with two points at half-time, brought them back into contention, and shattered the hopes of the mid-men of a comprehensive victory.
Loughmore, the Mid Champions, opened the 2nd half as they did the 1st and a goal in the 10th minute put them 5 points up again. Cappawhite had demonstrated clearly in this years championship an ability to remain cool and keep hurling when under pressure or in arrears. The mental approach of the men from the little village has matured with success. Once more a sizeable lead had to be tackled and the patient chipping away of the margin, by points, began. Ger O'Neill moved out to the 40 mark and played a central role in ensuring that Cappawhite stayed in contention. He scored 2 of Cappawhite's 4 points that were registered without reply and in the 16th minute only 1 points separated the teams.
Loughmore added 2 further points to go a goal up again. With tension and excitement running high, Cappawhite surged back for 3 points without reply, to level the game with 8 minutes to go. Loughmore edged in front again with a minor, and Pa O'Neill, Cappawhite's very accurate man of the match winner levelled with 3 minutes left. The final minutes were nerve racking and rousing as both teams fought for supremacy. A Loughmore shot went off goalie Danny O'Neill and hit the upright and fell back into the waiting hands of Deasun Hennessy, who got a free to relieve the siege. Ger O'Neill collected a Mike Buckley clearance and progressed down the right-wing. Austin Buckley raced to shadow him and linked up for the vital pass, which from an awkward angle within 14 yards of goal, he shot straight and true, to put Cappawhite in the lead for the 1st time by a point. Loughmore failed with their final chance to draw level with an 80-yard free and Cappawhite were County Champions for the 1st time ever on the 100th County Final.
This was a marvellous team effort by every Cappawhite Player, whose team produced so much elegant hurling this year. In winning the centenary final they showed tenacity, nerve and maturity which characterised the champions. The team had a certain amount of luck and their sheer hunger for success kept them chasing and rallying despite the score-board readings. While every man was a hero in Cappawhite's win, some outshone others. Ger Ryan (B) in defence by curbing the dangerous Pat McGrath in attack, Anthony O'Neill, centre-back and Deasun Hennessy in the half-back line, Simon Ryan (L) and Eamonn Ryan (B) at midfield, Conor Ryan and Martin McDermott in the forwards and Austin Buckley in the last quarter on an hour.
Ger O'Neill's final quarter of an hours display turned the game in Cappawhite's favour, with him providing both leadership and vital scores. Pa O'Neill won the man of the match award with his vital contribution of 10 points, many from uncomfortable angles. John 'fox O'Neill received the Dan Breen Cup from the chairman, Michael Lowry, amidst jubilant scenes of joy from all of West Tipperary, East limerick and Cappawhite in particular.'
A link to the 1987 County Final Programme (courtesy of Tipperary Studies Digital Archive) is attached
https://tipperarystudies.ie/wp-content/uploads/2018/02/1987%20Co.%20Tipperary%20Senior%20Hurling%20Final%20reduced.pdf